2006-09-03
As spring approaches the station has gained another building. Well, it's gained a tent, albeit a very beefy one. The tent, or weatherhaven, will be used to house a tethered blimp. The blimp will be used to measure ozone levels throughout the lowest kilometer of the atmosphere over the next few weeks. As it takes a while to fill it with helium we store it inflated, but under cover so that it can't float away between launches. We held a test flight back in the summer, and practised putting up the tent. It was very different trying to do it in the harsh cold of winter. Even simple tasks like tying off ropes or bashing struts into place take much longer when wearing twice as many clothes, and without access to fingers. Even towing a set of gas cylinders into place is complicated. Below minus twenty the tanks become fragile and cannot be transported. This trouble is solved by storing them in a shed equiped with heaters, which we power using a portable generator.
Before we blew up the blimp we decided we ought to put the new space to good use by holding a pub crawl of sorts around the outlying buildings. All well and good, but at -40 my bottle of wine turned to granita on the long walk to the CASLab, was thawed out back to liquid at the Simpson, then poured into a glass in the blimp hangar where it promptly froze solid before I'd managed to take two sips. We stayed as long as possible, dancing the hokey-cokey to keep warm, then retired to the Piggott to round of the evening.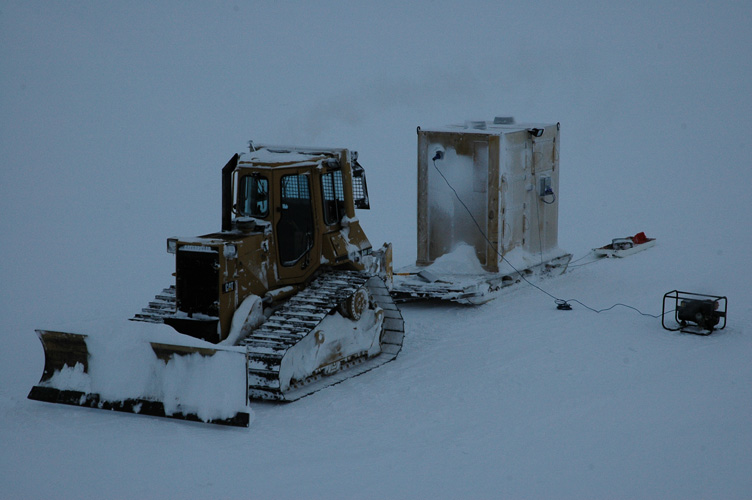 Dozer drags helium for blimp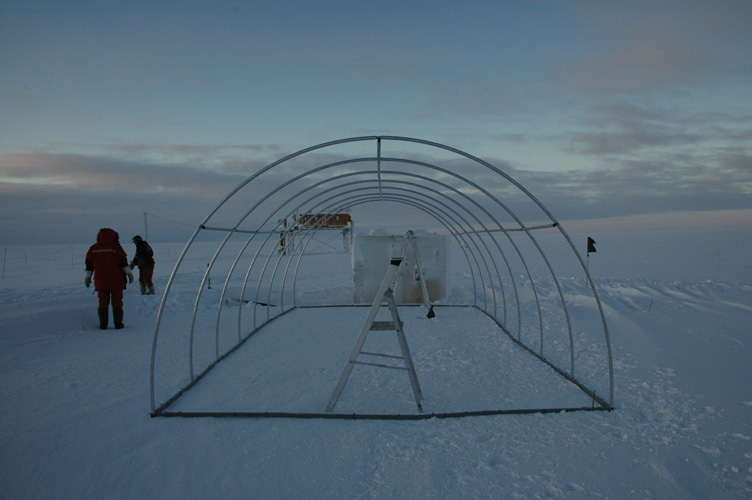 Blimp hangar under construction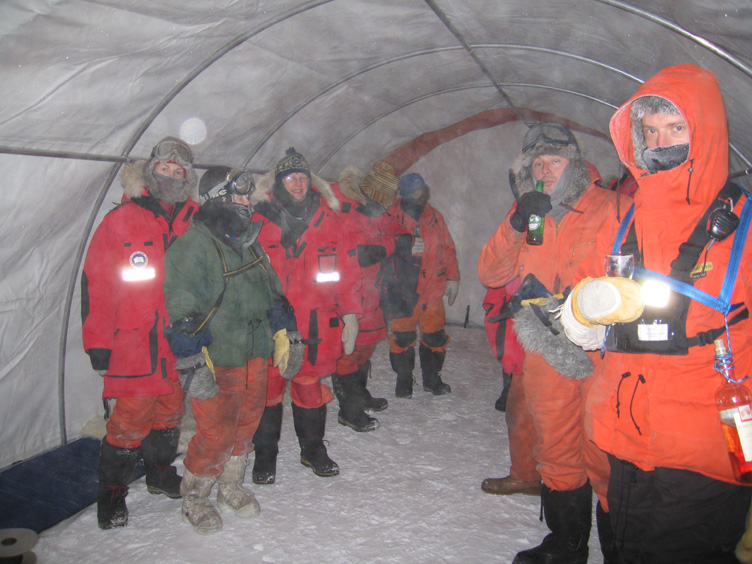 Hangar as Beer Tent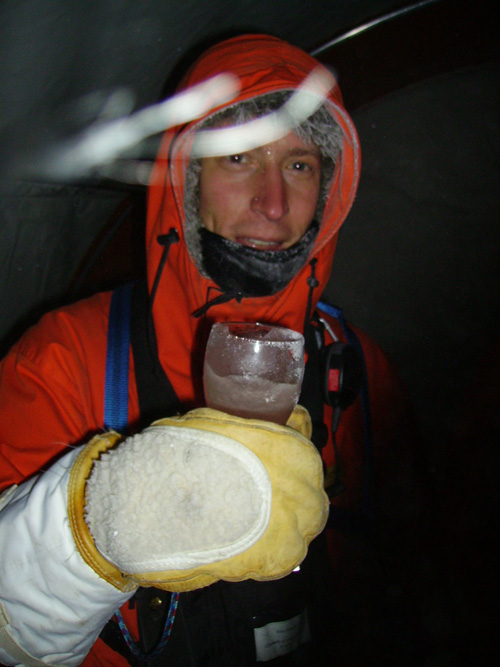 Wine frozen at minus forty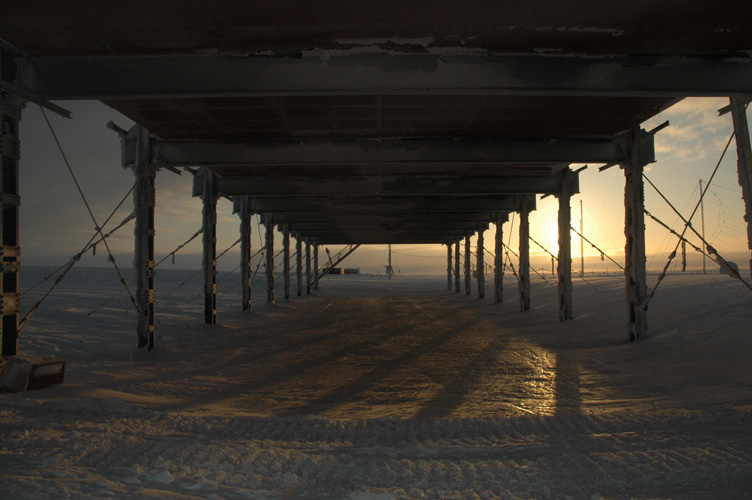 Sunlight under Laws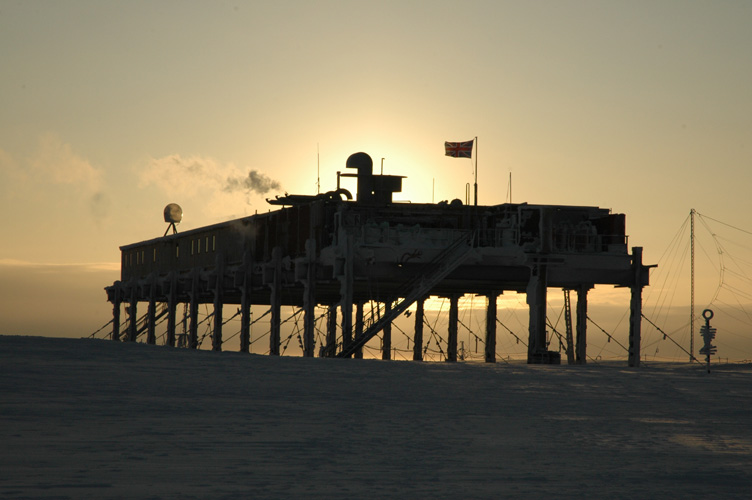 Backlit flag
After the very welcome rest over the bank holiday it was time to get back to business. Better still, it was also my birthday. Special day or not we still have to work. Backups of our data servers in the morning followed by an afternoon spent practising how we'd respond to an oil spill. We take the impact of our presence here very seriously. We're fortunate enough to be in the least polluted part of the world and the privilege of living in a pristine environment is balanced by an obligation to keep it that way. Any oil we spill we'll try to contain and mop up again using clever pads and sponges. To protect ourselves from skin irritation while cleaning up we'd have to wear suits, gloves, waders and masks. I was the lucky one that got to try all this kit on, and looked quite silly as a result.
The evening brought a meal of my favourite foods (lasagne followed by rice pudding), a cake decorated by Vicki with Schrodinger's Cat (it turned out to be alive all along) and a framed photograph of our penguins developed and printed by Frances using our dark room. I also had a couple of items which I'd packed in my box before my last birthday back in England and had resisted opening even one moment early.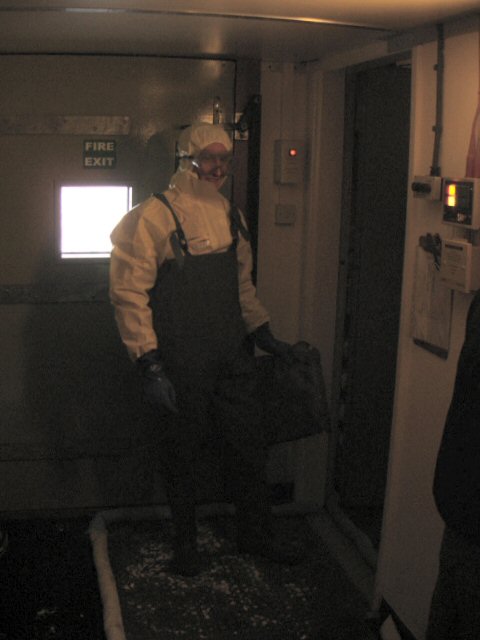 Oil spill response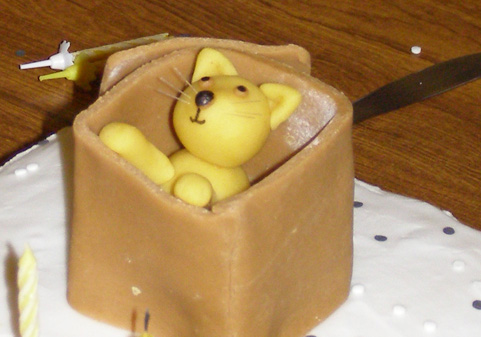 Schrodinger's Cat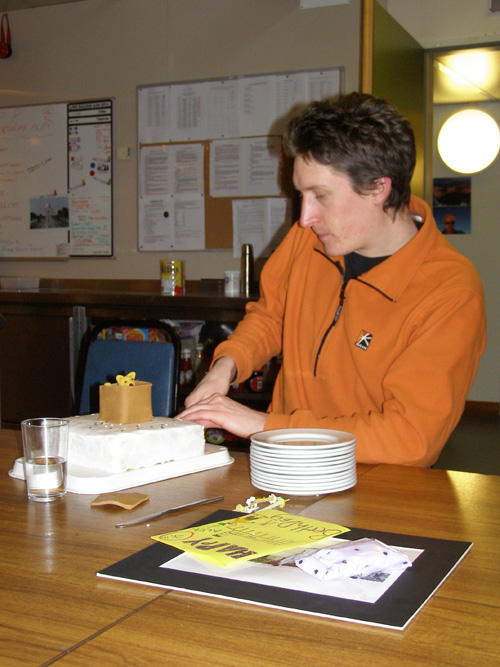 Cutting the cake
The ice shelf outside may be flat and featureless when viewed from a distance, but up close it's forced by our weather into a varied and varying landscape. We rarely see snow falling from the sky. More often water freezes straight out of the air. Ice is deposited like dew on every surface. Fragile fingers of crystal spread from wires and rails like thin glass claws and single blades of silvered grass grow upwards from the snow. Sometimes ice grows as tiny shards suspended in the air, glittering and sparkling with reflected sunlight. Each regular prism manipulates the rays in the same way. Their geometric efforts combine to cast a halo around the sun and raise rainbows about the horizon. The ghostly dark of winter banished by brilliant displays of light and colour.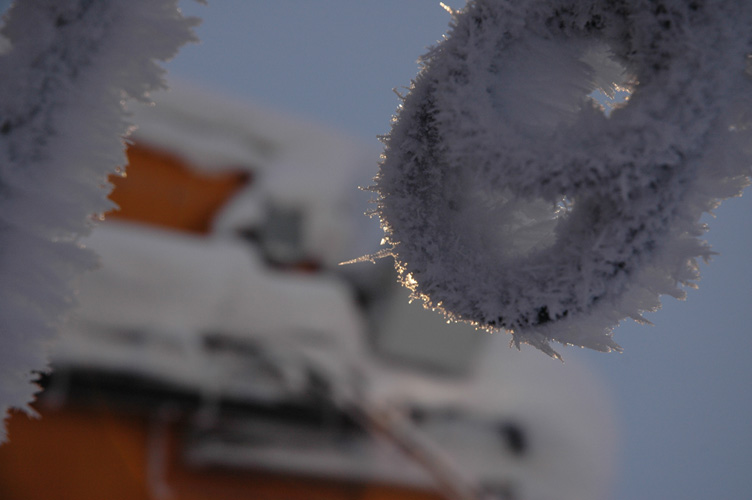 Rime ice on Piggott crane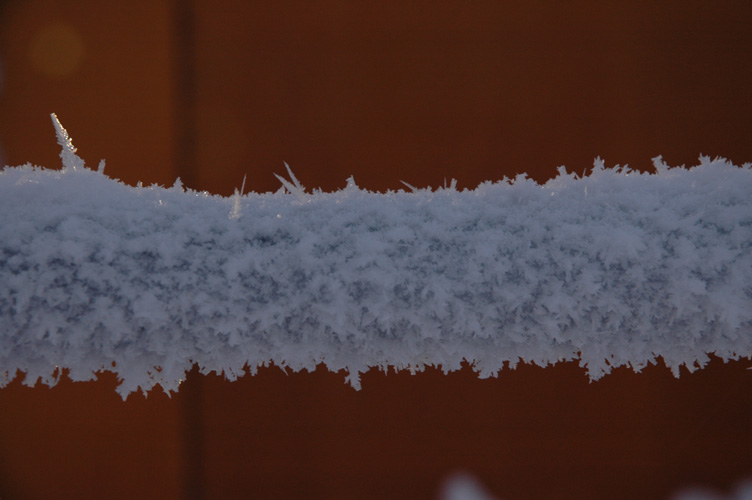 Rime ice on Piggott handrail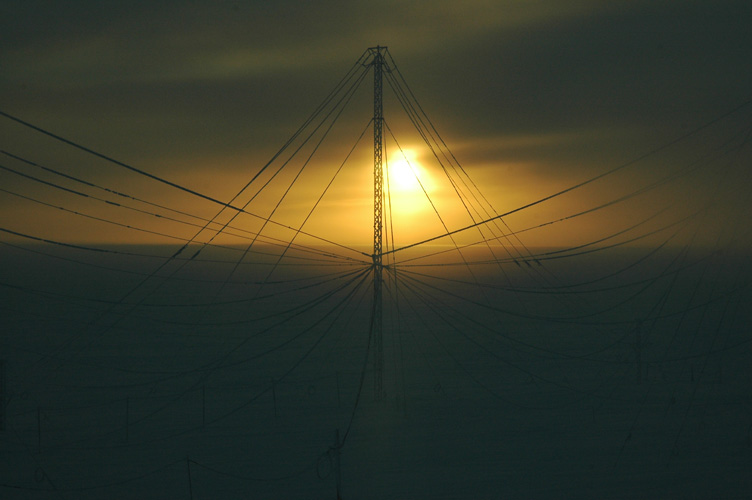 Sun rise through mist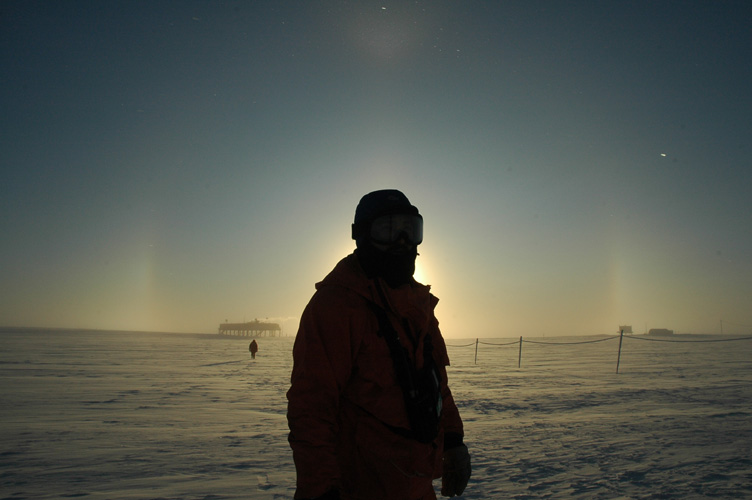 Weak solar halo with circumzenthal arc and Julius
Then the wind blows again. Breaking the delicate light needles as it rushes by. Snow gets picked up as the spead increases. Carried in thin ribbons over the surface, picked out by the light of the low sun. Small bumps on the flat ice become moving mounds of rippled snow that creep slowly across the surface, transported grain by grain, crystal by crystal, as day by day different patterns are sculpted by the knife of the biting wind.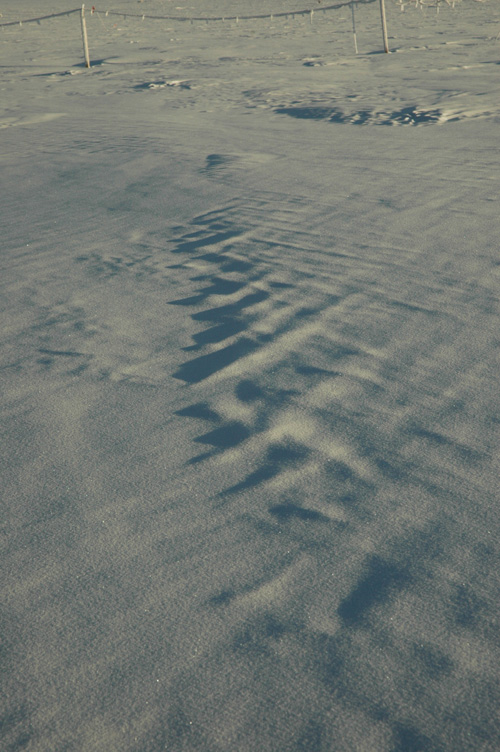 Cross hatching on the snow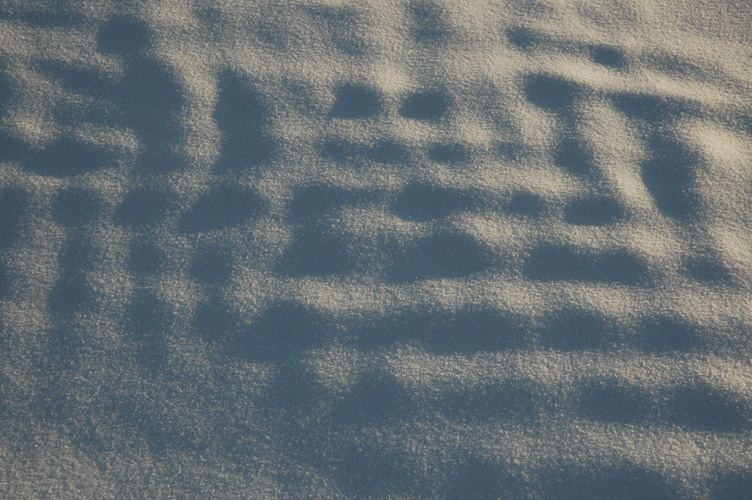 Bumps and waves on the snow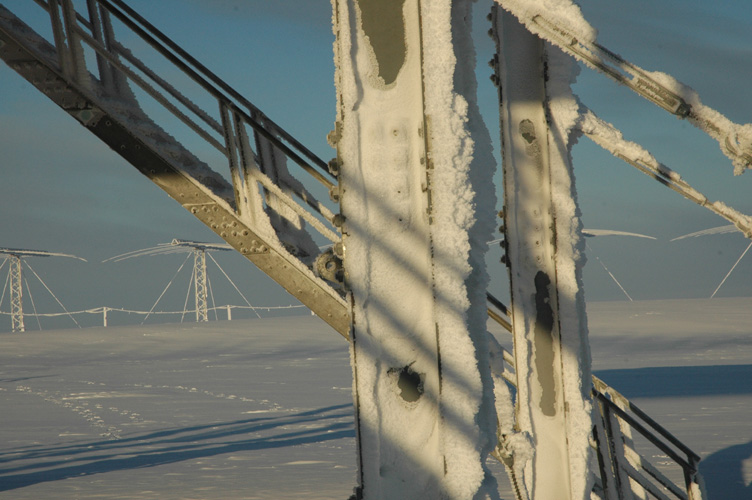 Stairs and shadows