2006-04-11
I've just got back from my first field trip and after a shower and a couple of days to recover can, perhaps, remember a little of what we got up to.
The basic idea of the field trip is to not be at the base and instead be somewhere that's a tiny bit hilly where we can learn the basics of travel over the ice shelf. The first part of that training had to happen at Halley as high winds on our planned departure date would have made driving on skidoos impossible. This saw us in the bar pretending to fall into crevasses then rescuing each other with a complicated yet simple arrangement of pulleys and friction devices. Indoors, in the warm, fairly easy to master, but perhaps harder out in the cold while trying not to let go of the guy dangling down a hole.
As Sunday progressed the winds remained so we braved them for a short while to set up our sledges, lashing tents and sleeping bags on carefully. The winds fell as evening drew in but too late to get to our destination before darkness crept over. Still, a welcome chance to get the kites out and rush over the fresh snow, tacking into the setting sun, with thoughts on the trip to come.
Monday finally let us depart with a clear, crisp, sunny day. After a little bit more faffing with sledges we set off at eleven towards the Hinge Zone. Although the route to take is marked with flags every 300m it does pass through areas which are likely to be riddled with slots covered by strong bridges of snow and ice. Although a fall is unlikely we take precautions to ensure that no one is lost if one of those bridges gave way. The four skidoos split into pairs, with a sledge on a short rope behind each skidoo. The leader of each pair then ties a line between his sledge and the front of his partner's skidoo, and everyone clips into a rope attached securely to their machine. The theory then is that the first guy falls down a hole and off his skidoo while the second guy notices and puts on the brakes. The first guy finds himself dangling a few feet below his skidoo, but still in a position to be hauled back out without too much trouble. Driving like this is tricky as both drivers need to go at the same speed, even if one is going downhill and the other uphill. By the time we got to the camp we'd got the hang of it, mostly.
Once at the campsite we spent a couple of hours errecting our tents and securing everything then set into the serious business of brewing up a cup of tea to warm us and the tents. I was sharing with Mark and the other tent was occupied by Bob and Simon. After a spot of dinner, a couple of very tasty vegetarian Meals Ready to Eat (really tasty, and very filling) and a couple of Biscuits Brown to fill us up, we popped over to the other tent for a drink and a chat before returning to our cold, dark tent to sleep. After a bit more playing with fire, fuel and matches, another cup of tea and an hour or so, the tent became a nice warm place and we turn off the burners and turn in to sleep.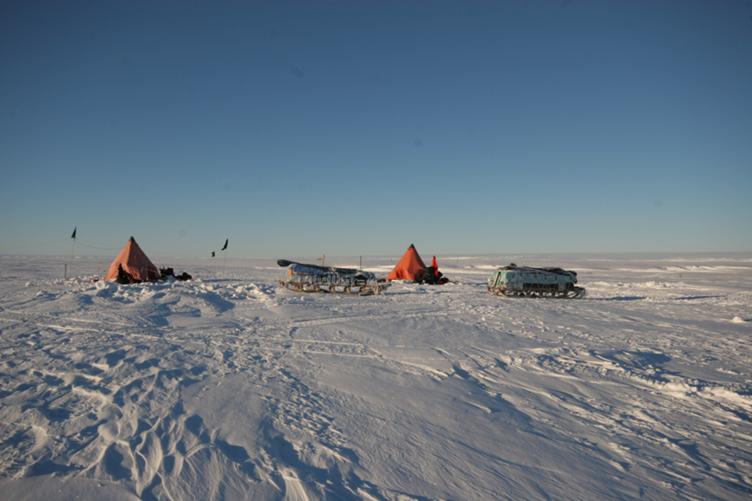 The camp at chasm two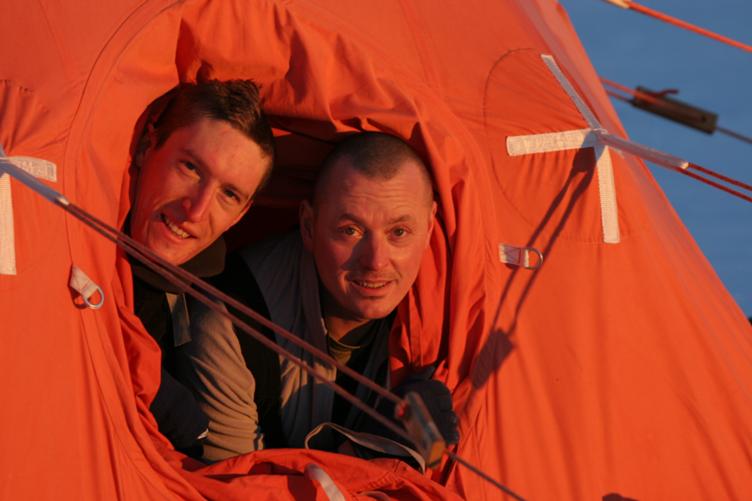 Me and Mark in our pyramid tent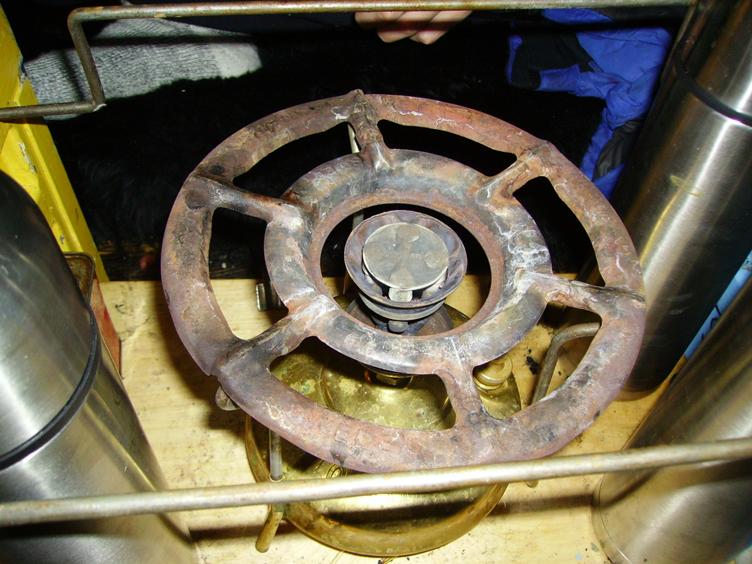 Primus stove
The pattern of the evening repeated over the rest of the trip, and by the end we were getting pretty good at setting fire to things without burning anything else, and at filling stoves without covering everything else with parafin. Being comfortable in a tent is all about finding systems that suit you, knowing that you need two pairs of thin gloves - one that will get soaked in fuel and one that will stay clean, knowing that matches won't light when soaked in parafin so making sure none are left lying around when topping up the stoves. Anyway, after a few nights and a few mistakes things get fairly easy and camping becomes positively pleasurable.
Sleeping, especially on the first night, was tricky. With no one and nothing for fifty kilometers there's absolute darkness, like being in a cave, and unsettling as I've grown used to sleeping with a little light all around. The sleeping bags and associated rugs and mats are gigantic, insulating from the cold but also from any sense of what's nearby. The tents are noisy (well, people snore...) so earplugs are essential but take away another external cue. Eventually all sensations save upwards and a cold nose are gone. Initially this is hard to cope with but, well, given the lack of an alternative I drifted away to sleep. After a few nights I grew used to the strangeness, escaping the feeling of being trapped, and found I slept better than I do back at base.
At the end of sleeping comes a cold morning. These involve a battle of wits, or bladders, until one of the pair in the tent gives in and emerges to light stoves and make breakfast. After an hour or so we and our kit are warmed and dry, and ready to suit up for a day of adventure.
On our second day the sun shone brightly from a nearly cloudless sky, and we headed out to begin our training. Using a bowl scooped out by the wind, with cliffs and gentle slopes, a smooth bottom and a ridge along one side, we were able to find areas to practise the different techniques that can be used to move about on ice and snow. After a full morning of cutting steps with ice axes, abseiling and clattering about on crampons, we moved into the bottom of the windscoop. The floor was made of blue ice (the wind had blows off any falling snow) and the ice was shot through with large and small cracks. Easy enough to spot, but ready to grab an ankle if you don't pay attention. Harder to spot were two large crevasses hidden beneath a thin topping of snow. We cautiously excavated a couple of these, digging holes as wide as our shoulders that revealed a plummeting world of blue and white. We set up rope anchors and abseiled down to explore what lay beneath our feet.
The pilot hole widens into a chute lined with large leaves of ice, like glass ivy in a white well, the rope above cutting showers of shards which speed past and finally slither deeper below. The thin tunnel then opens up and I emerge into a blue rift dropping away to thin nothingness far beneath. I descend a little then use the smooth, snowy sides of the split to move sideways to a bridge between the walls that surround me and wait to enjoy the view. Each movement drops shards of soft ice into the quiet depths which answer with gurgling xylophone noises, slowing dying away to silence. The world above is blanketed out, but the ice creaks and shudders as people stomp around. I exit using jumars, mechanical ascenders, and return to the surface with a mix of heaving and kicking.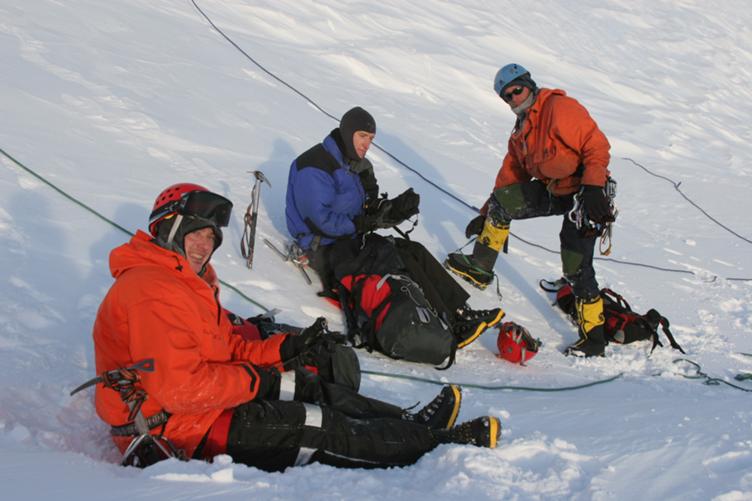 Resting after abseiling into windscoop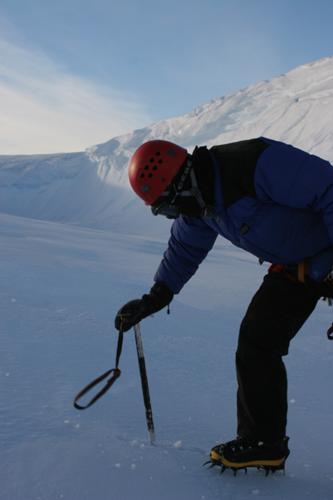 Probing for crevasses using an ice axe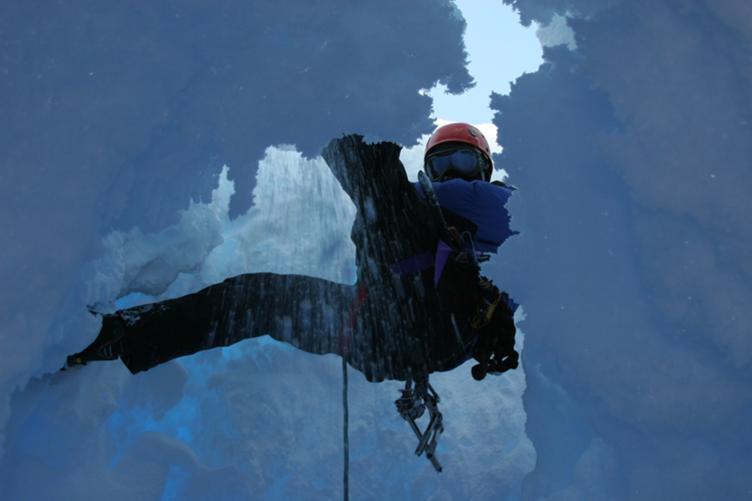 Descending into a crevasse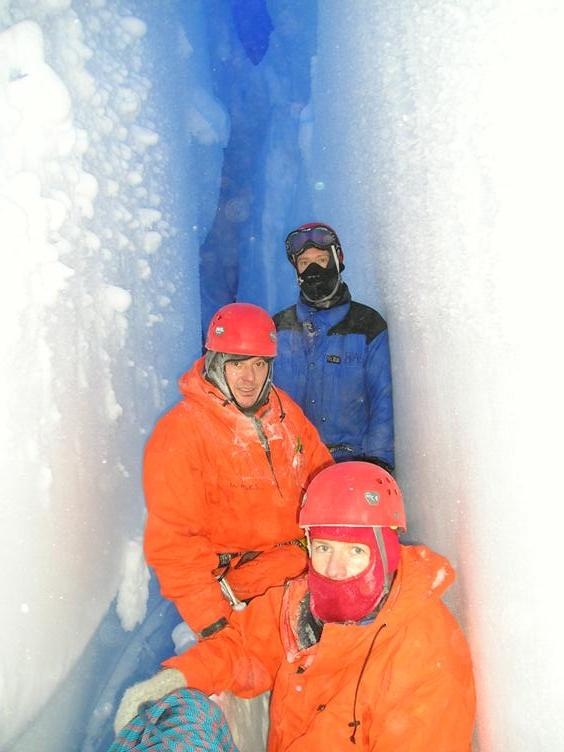 Alex, Mark and Bob in crevasse
After another evening of conversation and chocolate I sleep, only to wake just after midnight needing to go outside. I go to the toilet under a ceiling of still stars and rushing satelites. The Milky Way vaulting from horizon to horizon, strange stars to light me back to my bed. I wake again, around three, and decide to brave the cold again. The stars still shine but the sky is now banded with diffuse veils of nearly orange-green but mostly white light. Sheets of silently shifting dim brightness, like thin cellophane ribbons blown by a slow distant fan. Strands of lace like dyes in water, streaming softly between the still ice and the cold stars. Our camp is small, two tents in the wilderness, surrounded by dimly revealed valleys under a celebrating sky. My first aurora, from a tent perched on jumbled icebergs shed by the edge of Antarctica.
Wednesday comes around eventually, the sky still clear, so we head out into the chasm. Four people roped together walking along ridges of ice, our crampons dug in with solid kicks. Later we cross a valley and climb up a tilted iceberg, frozen in over fifty years ago, weaving our way between the ever present crevasses. One or two manage to evade detection until probed with a foot, but none cause more than a small fall and large fright. We reach the far side of the iceberg, tap in two ice screws and throw ropes down into the unknown. We abseil to the end of the rope which lands us on an area of smooth, clear ice. Flat as an ice rink and walled in by drooping walls of snow and sheer sides of ice. We explore, take photos, and play a bit of curling before clambering back up our ropes. We head back to camp and duck into our tents for a while to warm up. Later we head out for a final bit of training, making anchors using only the snow to support ropes and test them with frantic tugging. The short trenches hold, the soft snow suprisingly strong.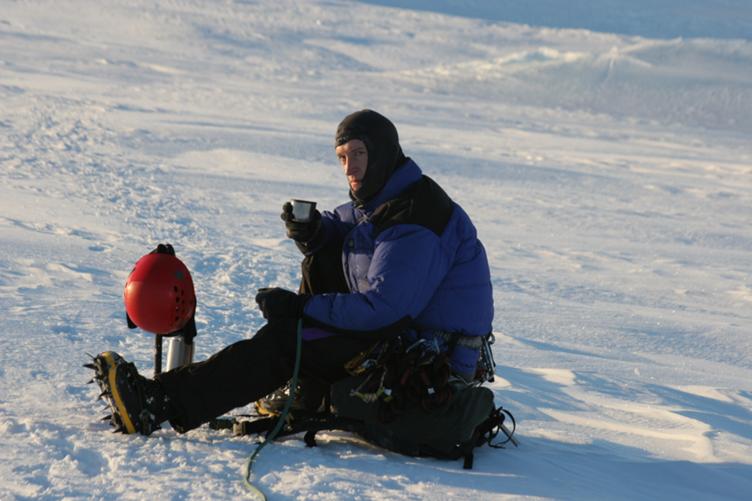 Resting at lunchtime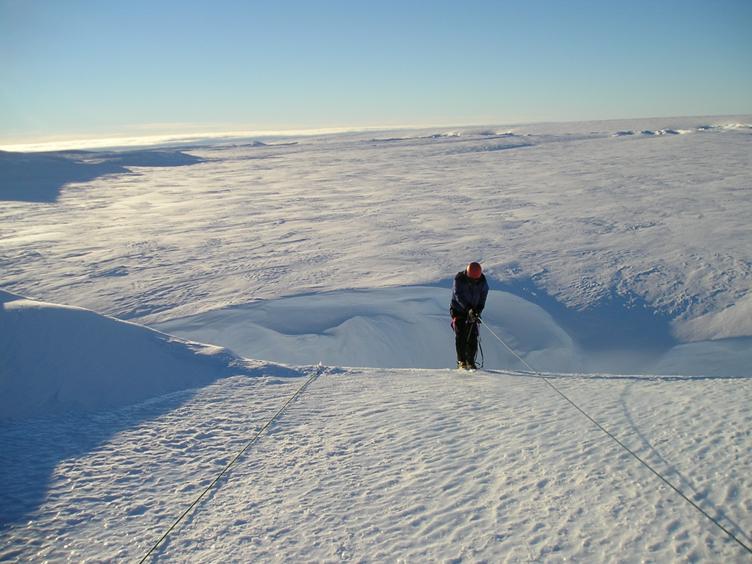 Abseiling off tilted berg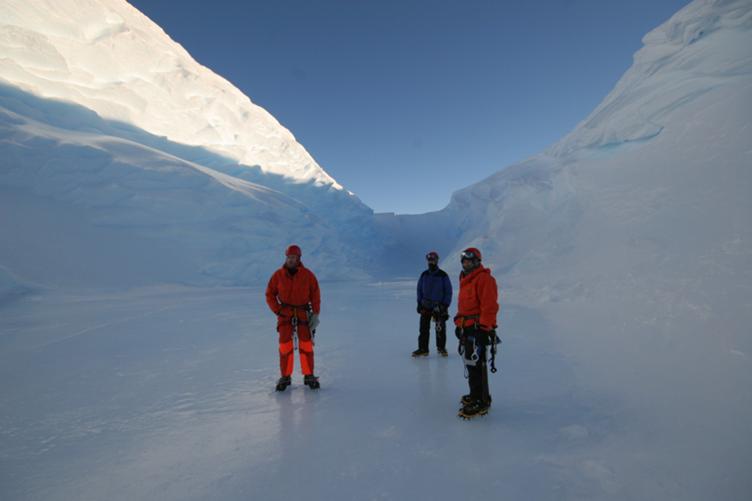 Group in the ice rink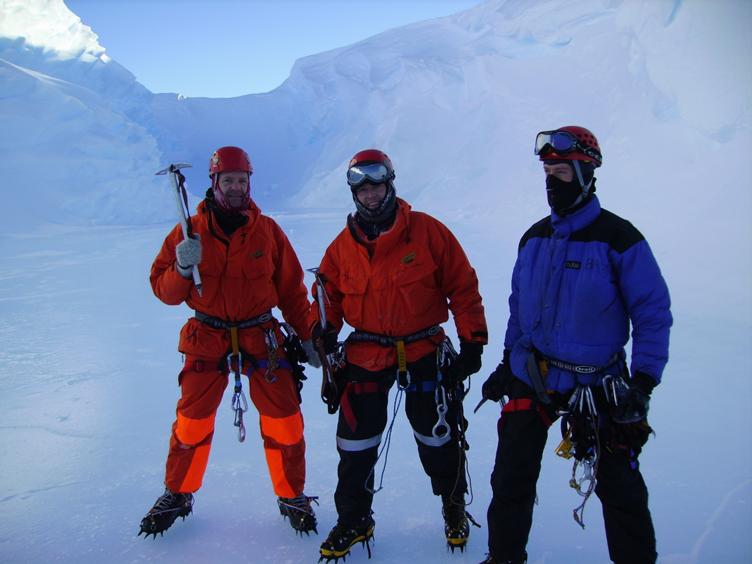 Bob, Mark and Alex in the ice rink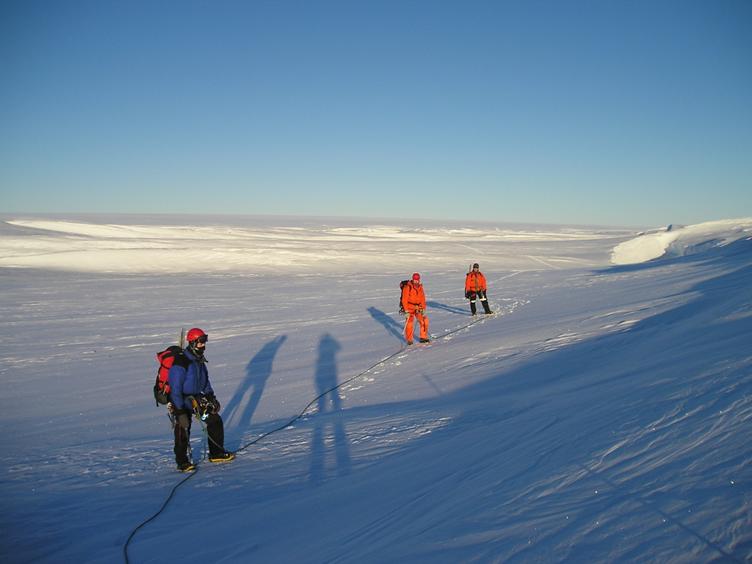 Returning to camp as an Alpine four
We wake early on Thursday, hoping to head back to Halley, but a covering of cloud took away all contrast so we stayed at camp for the day. There's nothing more relaxing than spending a whole day sat reading a book, drinking tea and munching on biscuits and chocolate.
Friday morning proves very simillar to Thursday, so after a quick peak out of the tent at nine we sleep through to midday. After a spot of breakfast-lunch (bacon and rolls frozen from Halley and Alpen with milk powder and hot water) we spend the afternoon playing bridge in the other tent. As we trade bids and battle over tricks the wind outside rises. We head back to our tent for dinner as the wind starts to pick snow up from the floor. We decide to stay put and have a quiet night in our own noisy tent, and by bedtime the wind has got up even higher. We can still see the other tent, but getting around outside starts to get tricky as the air has deposited new drifts between us and our toilet flag.
We pass a difficult night, the tent's walls pulsing with each gust outside. The tent proves secure against the increasing wind but we're quite aware of the bother we'd be in if the hole thing lifted away. We thank ourselves for the work we'd put in making sure the thing was pitched right and dug solidly into the snow. Saturday morning comes around and the other tent, only ten meters away, is impossible to see through the drifting snow. We spend another day reading and testing items in our food rations (CHEESE PROCESSED as bad as it sounds, BISCUITS BROWN my new guilty addiction). I venture out only once, to visit the toilet (downwind) and fetch fresh snow for drinking (upwind). As evening comes round the wind finally abates and our hopes of returning to Halley improve.
Over the evening the wind dies away to almost nothing, quiet after a violent day. The stars reach out of the sky once more and Sunday finally dawns with clear skies and a low, slow sunrise. Full of energy and glad to be released we rise with the sun and dismantle our camp. Two hours later we start back for Halley, finally arriving in the middle of the afternoon. I recount our adventures over dinner and settle into a fresh bed with music quietly playing in the background - the bliss of a return to civilisation after an exciting, exhausting week in a comfortable tent.