2006-08-16
On Monday the weather got good again after a slightly unsettled weekend. This let us get off to see the penguins again. The same routine as last time, but a little slicker now we know what we need to bring and what we need to do once we get there. This second trip was much colder, but the orange glow of the risen sun made me feel a little warmer, even though it had little real effect.
The low sun casts a slight orange light over the penguins, picking out the bright patches on their necks and glistening off tightly packed feathers. Red beaks flash in a sea of black heads and a haze hangs over the colony catching the rays of the sun as raised heads set shadows against the light.
The cold has calmed the colony. While some active birds mill around the edges the center is occupied by a static huddle, leaving no space between one grey back and the next, necks bent down to tuck beaks against bellies. One or two fathers linger at the periphery, looking to the distance for their partners, keen to reunite and pass on the chick that is both their burden and their purpose. Black specs slowly move nearer, picking their way between the blocks of brash ice that haunt the horizon. A scattered line of sated females returning and hoping that their infant awaits their care.
The colony hadn't moved far, a deep crack runs parallel to the coastal cliffs and discourages any drift inland. There are certainly more penguins present suggesting that most of the females are returned from their feeding. The males, once they have hatched their chicks and exchanged with their partners, will soon leave and walk to the nearest patch of open sea for their first feast. We couldn't see any nearby water, but thin whisps of sea smoke seemed to be drifting in distant mirages, so there must be an open lead not too far away.
The sound of the colony has changed too, along with a gentle gobbling a keener peeping shrieks through the air. Broken eggshells lie here and there on the ground. Chicks have started to hatch. At first we only hear them, but stay still and keep a close watch on any bird that looks like it might be about to reveal its cute cargo. One bobs its beak down, its black neck splitting its white body in two, then bobs back up again. Another flaps its wings a little, stretches up then lifts its pouch but displays only an egg. He pecks it gently then settles it back on his feet before covering it back over. Finally our patience is rewarded. A penguin lifts its feet up, leans back a little then shrugs its shoulders before slowly bending down. As it lowers its head its pouch lifts and a small head peeks out. A stubby beak is followed by a white face under a black hood. An eye spots the white like one half of a yin-yang symbol. A thin grey neck follows. The parent takes a careful look then lowers its pouch again, the chick retreating into its warm hiding place.
After some time spent walking slowly around the colony, and once my camera had given up the ghost[0], my feet and hands followed suit so we decided to head off for a little out into the solid sea. The ice is all very much the same, flat bits covered with snow, a few little cracks that have frozen in again, with bits here and there sticking out. We went maybe half a mile away from the cliffs, spent a little while making ice sculptures (mine an unconvincing rabbit) then headed back. The thought ran through my head that the last time I was around that spot I'd just arrived on the Shackleton and was enjoying mulled wine and singing on the foredeck, and that all that sea was still there, covered over with a meter thick thin layer of ice.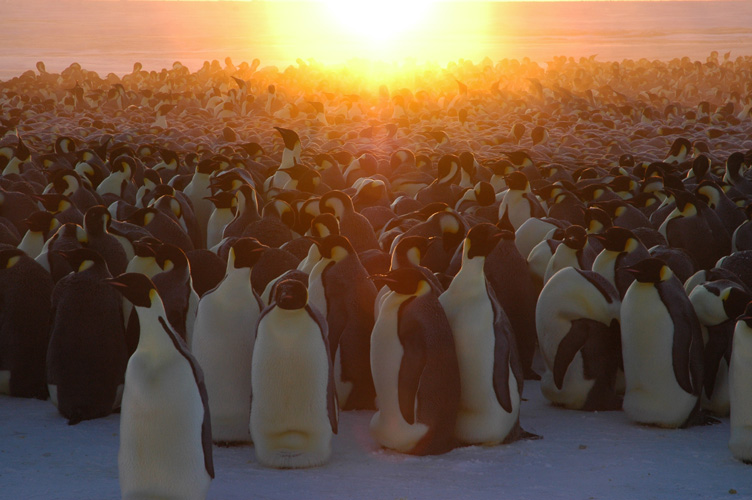 The sun rises behind the emperor penguin colony, a huddle in the center is picked out in soft grey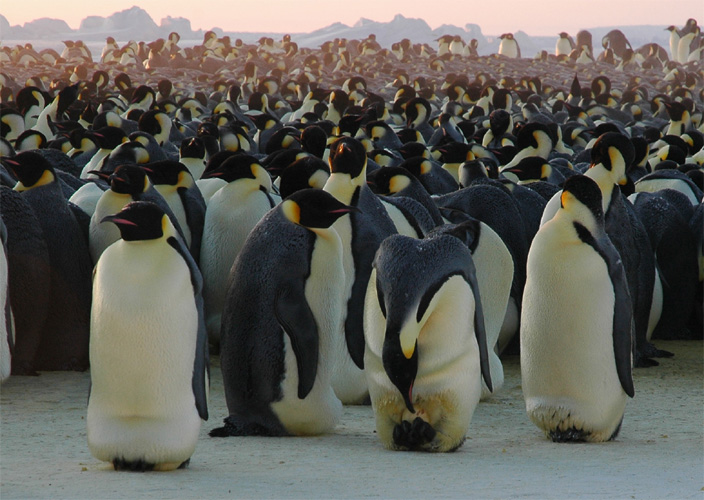 An emperor penguin checks his egg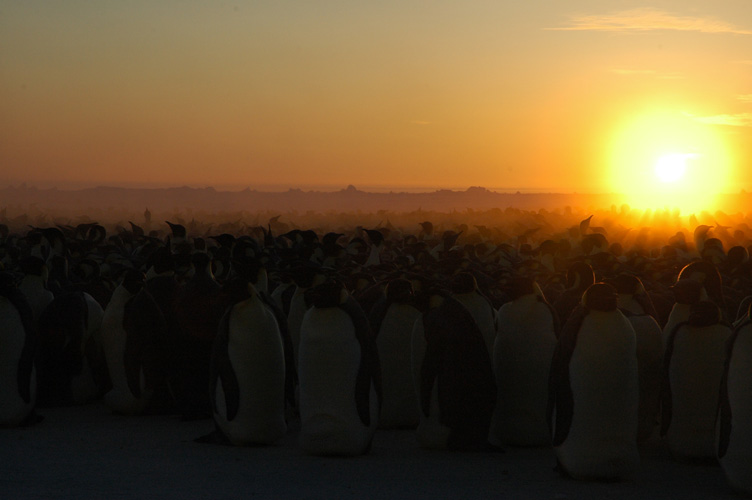 The sun behing the emperor penguin colony (yes, but it's pretty)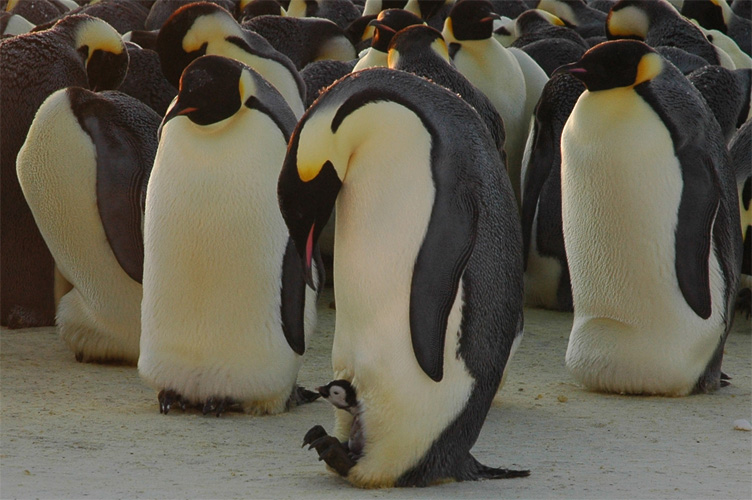 A newly hatched chick inspects the world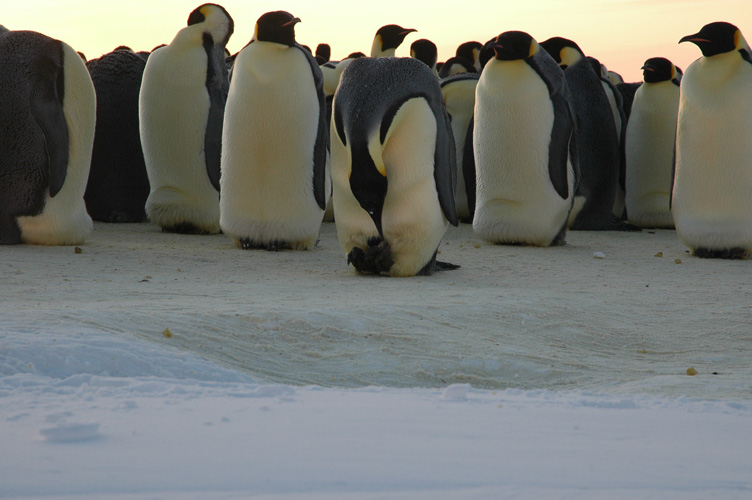 A shy chick is checked by its parent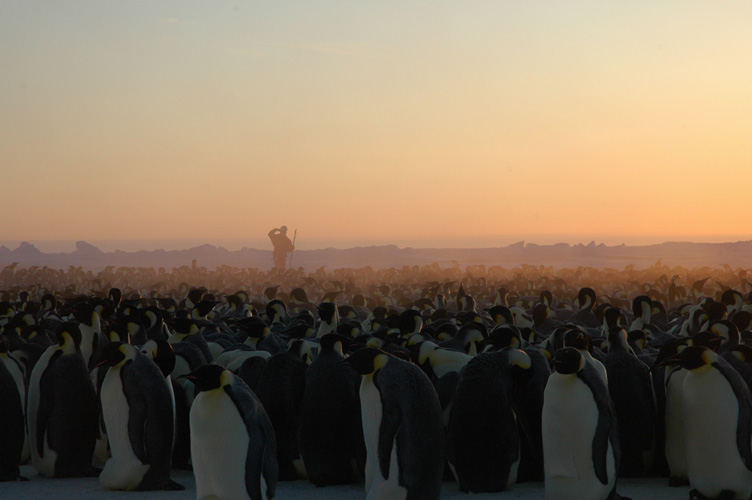 Simon through the haze above the penguins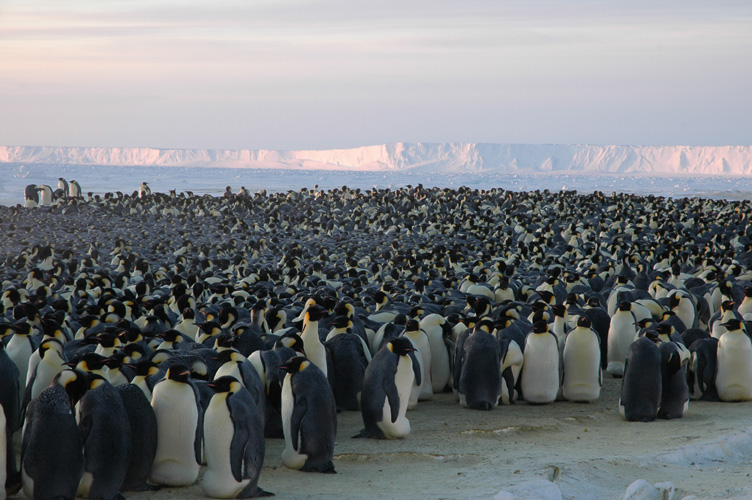 Many more penguins occupy the colony now that most mothers have returned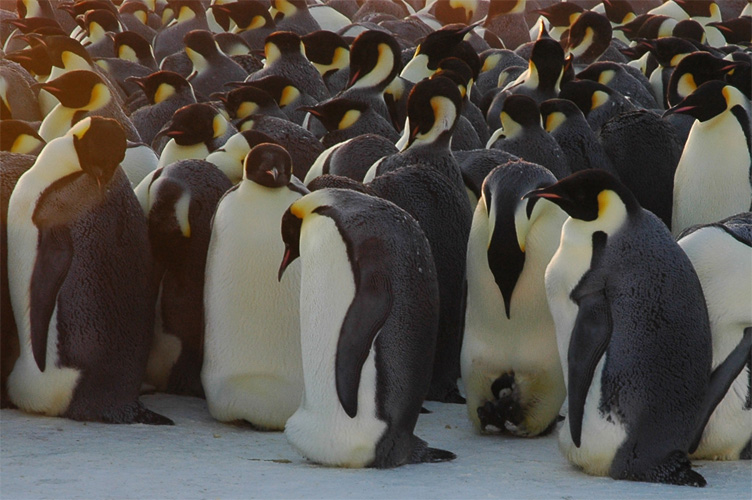 The chick stays on the parent's feet, warm in their pouch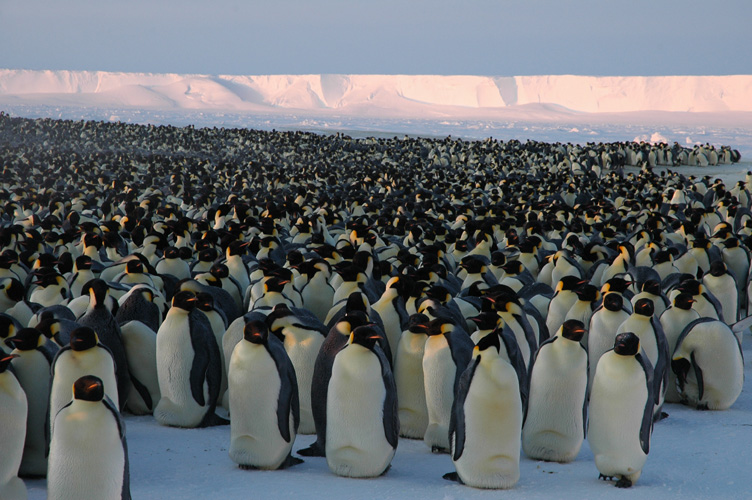 One, two, three, er ... thousands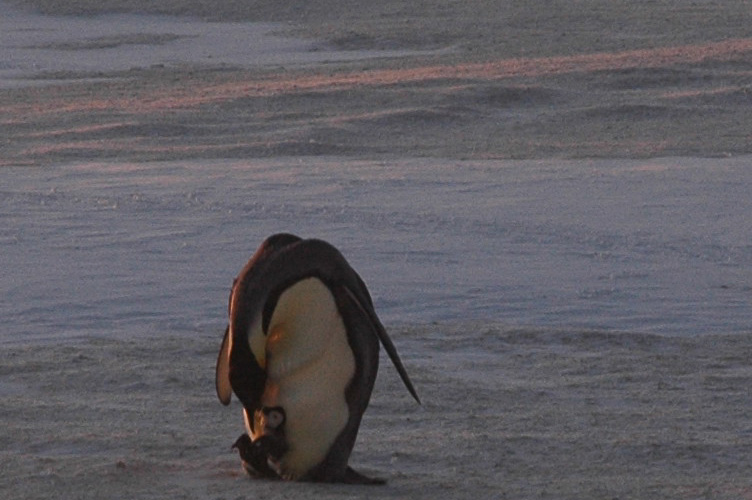 A lone parent and chick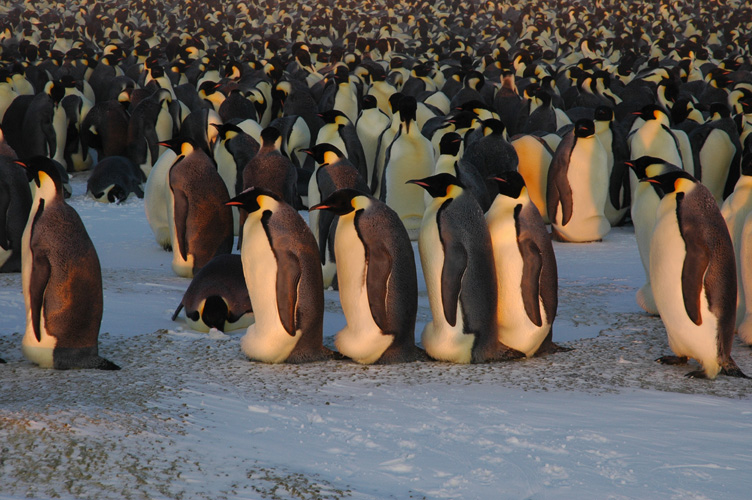 A queue of penguins walk around the colony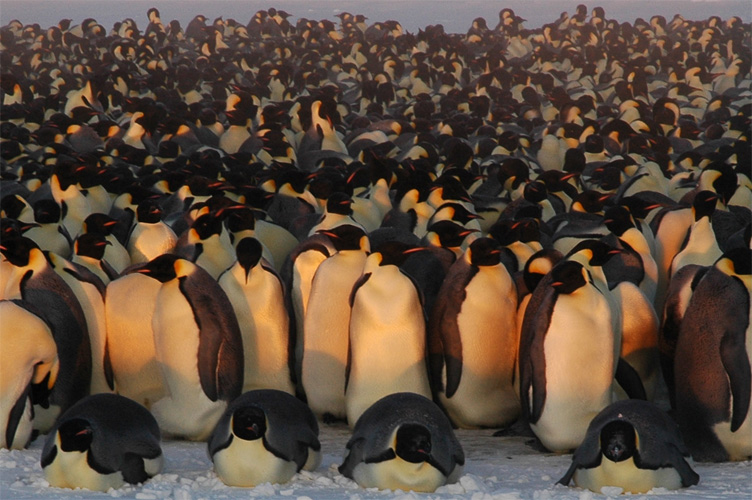 Four emperor penguins bask in the sun's rays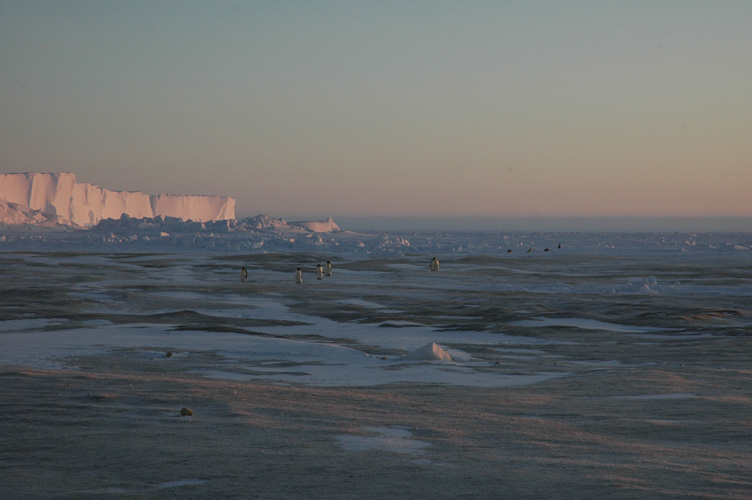 Penguins return from feeding in small groups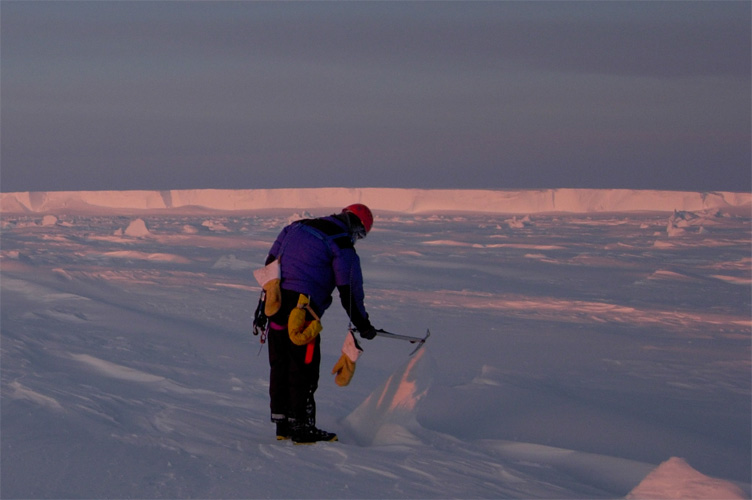 Further out to sea I get destructive with my ice axe
[0] Operation TOASTY WARM: On the first trip the camera had become too cold during the walk out to the penguins that it complained and seized up and after two photos. This time I carried it in a dry bag pressed against a bottle of water and wrapped in a jumper. That left it roughly at zero degrees when I took it out, and gave me about twenty minutes to snap away. It was still cold enough, though, that my eyelashes froze to the viewfinder once or twice. It is, in any event, good to have to put the camera away - while it's satisfying to end up with a few good images, it's better by far to watch as the activity happens.