2005-11-22
So, we're on our way...
First Heathrow, then Madrid. We got told off by the check in guy for having too much luggage despite having half as much as we'd been told we could have. Otherwise an ok flight, but with food only if you paid for it. Madrid airport let us have some food (suspicious plates of meat, and "vegetable" sandwiches). Then a few hours wait for a 1 am takeoff.
The flight to Montevideo was long and dull, but at least we were fed. I was asleep as we went over the equator, but woke in time to see South America appearing over the horizon. The landing was a bit, well, freestyle. Charging in over farms and tin houses, then a handbrake turn just above the runway before touching down and taxiing in.
Then we had to induldge the South American passion for queuing, first to get into the country, then to get into the port. Eventually we get to the ship, then head into town for food.
Monte's an odd town. Clean new buildings, rotting concrete carcasses and decaying grand colonial styles meet and mix together. Almost as if some mad architect had taken Barcelona, a Paris suburb and Docklands, chosen buildings from them by throwing a dice, then strewn rubbish about.
The eating was magnficient. Gigantic, cheap, juicy and tender steaks. Fleshy, sweet tomatoes. Coffee bitter and gritty, softened by cool orange juice. The drinking more chaotic. Irish bars without any Guinness. Then racetrack taxis back to port before shore leave ended.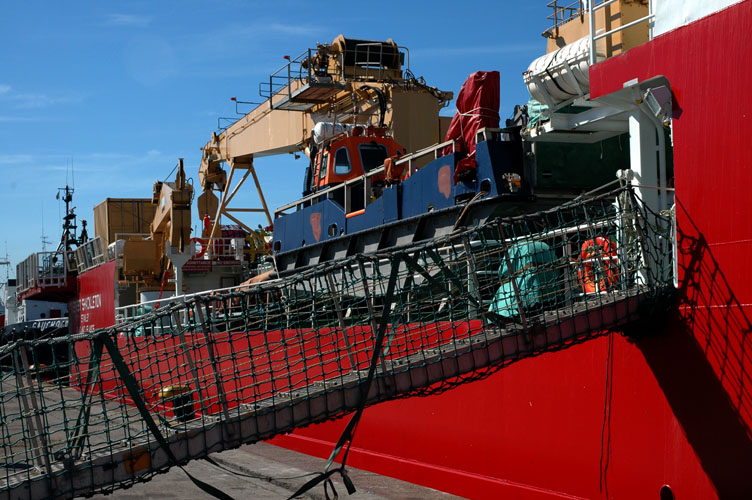 The Shack moored in Monte