Wessex
Dartmoor
Cheltenham
Teifi
Oxford
Cyprus
Cambridge
2005-10-30
A bit more touring, then some walking on Dartmoor.
Staying in YHA's has often proved a test of my sleeping capacity, people all around snoring in concert, punctuated by snorts and groans. To avoid this, I'm testing out earplugs. Turns out they work, I didn't hear any snoring with them in, but also didn't hear alarm clock until it adjusted to its loudest mode. The plugs have strange effects, though. Inside the head noises seem more powerful while shuffling in bed noises disappear. This leads to partly unthought attempts to be very quiet indeed, in case my shrouded senses are permitting me to make more noise than normal. Shallower breaths and careful motions, until I realise how ridiculous that is and force myself to move more naturally.
Had a good breakfast after River Dart YHA at Kingswear on the banks of the Dart, opposite Dartmouth. Every house in my view having odd dimensions to accommodate plate glass windows with views of their own. A town with mirrored sunglasses, two reflected villages peering at one another over the bay.
The NT odyssey continued, first with Art-Deco D'Oyly Carte house at Littlecote Fishnor, Eastcote littlefish, or some such. House almost entirely modern, fitted out with back in fashion brushed glass lights and pale wooden pieces. Wardens leap out at you with facts on figurines. This original, that made in Greece, the lights here shaped like the room, a button for the butler. Their enthusiasm draws you in, but can be hard to escape. Garden though, is the gem. A planted valley reaching down to the sea, riddled with paths like veins leading to benches for quiet contemplation. Watching the wind whipped sea crashing against rocks below as above trees convulse, dragged into a dervish dance by rustling, rushing branches bending before their master -- the gusting wind.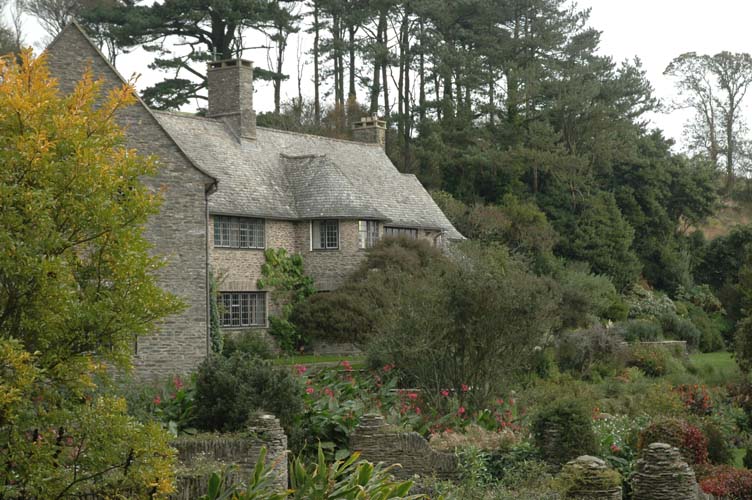 Coleton Fishacre
After lunch, off to Castle Drogo -- a 1910 castle built by new money to defend a place in the social order. The result is heavy and hideous and at times faintly pathetic. Exhausting.
Escaped at 3, so went into Dartmoor for a walk around Fernworthy reservoir. A good hour's walk with rewarding views and varied vegetation. Evening at Bellever YHA, less grand that River Dart but much more in the middle of the moor.
Joined late in the night by a bunch of friends from Oxford, and followed by two days of walking in the wet mire that is Dartmoor. I do enjoy Dartmoor. When out of the clouds its wild and unrestrained, empty and vast. One of the few places left where you can walk in straight lines, pick points on a map and charge along them.